so, i've been thinking for some time about doing a recipe swap. the way it works is super simple. i am including links to all the recipes i've feature so far on this post. not a lot, i know. but, i think that's a good starting point. in order to participate,



leave a comment with a recipe for me to try or a link to a recipe you have on your blog that you would like for me to try.



pick one of my recipes to try and include that in the comment.



when you have tried my recipe, post on your blog about it and let me know via a comment on the original recipe post that you have posted about it. i will then, let everyone know about your results.



when i have tried your recipe, i will post about it.




i do have one fairly simple rule. i need all recipes you want me to try to be vegetarian, so i can eat them. this really isn't as difficult as you think. i simply don't eat meat. i'm not a vegan so eggs, dairy, honey, veggies, fruits, carbs, etc are all parts of my diet. so, if you are a meat and potato eater, think sides, deserts, breads. but, i would love to try some vegetarian entrees from y'all too.



more than one person can do the same recipe.



i'd especially love to see some pics of everyone's creations.



if you're participating, i'd really love it if you put this button i made all by myself on your blog.



the more the merrier and have fun!!!

so please grab the recipe swap button on my left sidebar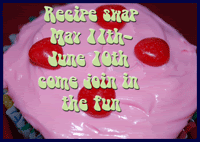 to be fair, i have to have an end date on this. so, if you want to participate, please post the recipes you want me to try and what you'll make by june 10th. and, then lets all make the foods by july 10th.





now for my recipes: